Share your thoughts about the Covid-19 vaccine
March 16, 2021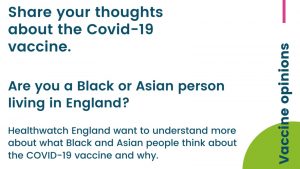 As you may have seen, there has been lots of discussion recently about Black and Asian communities being less likely to want to take the Covid-19 vaccine. Healthwatch England (the independent champions for people who use health and social care services) want to understand more about what Black and Asian people think about the vaccine and why. This is an exploratory exercise with no end goal, apart from understanding what is driving people's opinions.
In order to explore these issues Healthwatch England have collaborated with Traverse (an independent research organisation). You can read more about each organisation on their websites by clicking on their names in the text above.
What would I need to do if I take part?
This research will run for five weeks from March 22nd to April 23rd but will not take much of your time. During the five weeks you will:
Complete 4 activities online, for example a questionnaire. Each activity will take about 10 minutes.
Take part in 2 optional online group discussions on April 7th and 21st in the evening.
This is an online research project, so to take part you will need an internet connection (home broadband or a smartphone connected to the internet).
What will I get out of it?
This is an opportunity to help shape the way people talk about public health and the vaccine during COVID-19 (Coronavirus). As a thank you for your time we are also offering £50 for completing the 4 online activities, and £80 for attending both online discussions.
How do I sign up?
If you're interested in sharing your opinions, please click here and fill in the questionnaire.