Get the best help for your child in a health emergency
March 10, 2021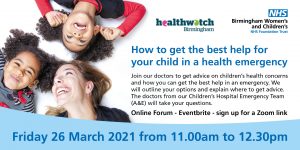 We're running a free online session with Doctors from Birmingham Children's Hospital A & E department to help you find out the best ways to get medical help for your child in an emergency.
Learn about situations you can manage at home or with help from your local pharmacy.
Be guided by new information leaflets and videos and discuss what you need.
You will also have the opportunity to ask the Doctors questions.
When: Fri Mar 26, 11am to 12.30pm
This will be an online session via Zoom.
Find out more and book your free place here: http://bit.ly/3cgtmFH