Welcome to our new Chair and Non-Executive Director
December 22, 2020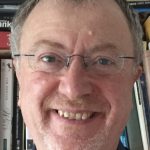 Healthwatch Birmingham and Solihull are excited to announce the appointment of our new Chair Richard Burden.
Richard was previously Member of Parliament for Birmingham Northfield from 1992 to 2019. He served as a Shadow Minister and on several Select Committees including chairing the Commons Committee set up to scrutinise West Midlands affairs.
An experienced community leader, Richard drove initiatives to build community resilience in South West Birmingham during a time of deep social and economic challenges, including those related to the loss of car manufacturing at Longbridge.
Richard brings a wealth of knowledge and expertise to the role and a passion for helping the people of Birmingham and Solihull. Speaking about his appointment, Richard said:
"I am delighted to become Chair of Healthwatch Birmingham and Healthwatch Solihull and I am looking forward to supporting the team to maximise opportunities to improve health and social care services for the people of Birmingham and Solihull. I believe passionately in the values of the National Health Service, and in amplifying the voice of local communities in health and social care. With the challenges of Covid-19 facing us all, the work of Healthwatch has never been more important than it is today."
Richard starts as Chair on January 1st 2021, replacing Danielle Oum who stepped down from the Board to become Chair at Birmingham and Solihull Mental Health Foundation Trust. Danielle said:
"It has been a privilege to serve as the Chair of Healthwatch Birmingham and Solihull for three years. I thank the Healthwatch staff, board and volunteers for their dedication to improving health and social care services, which is reflected in the impact we have had. Most importantly, I thank everyone who has shared their experiences with us: the crucial reason and motivation for our work. Healthwatch Birmingham and Solihull will always be on the side of patients and citizens, and will continue to strive to ensure that everyone, regardless of background, has access to the best possible care."
Healthwatch Birmingham and Solihull thank Danielle for her dedication and passion guiding the organisation from strength to strength.
We are also pleased to welcome new Non-Executive Director, Ranjeet Singh Bhupla. Ranjeet is an IT and digital solutions expert bringing invaluable skills to the organisation to ensure we can continue to reach all the diverse communities of Birmingham and Solihull.