What changes do people want to make to local services in Birmingham and Solihull?
July 16, 2019
The NHS has produced a Long Term Plan, setting out all the things it wants health services to do better for people across the country.
For these plans to work, the NHS needs to shape local plans based on local needs. We asked people #WhatWouldYouDo to improve local services.
We heard from 694 people about the changes they would like to see. These include:
More control and choice over health decisions

Better health education

Increased support to maintain mental health

Easier access to information, services and community groups

Quicker and easier access to GP appointments through improved booking systems

Better follow up and ongoing support or treatment to ensure patients are able to access treatment before they reach a crisis point.

Fairness and distribution of services across the city rather than just prevention for the 'posh areas.'
The Birmingham and Solihull Sustainability and Transformation Partnership (STP) response to the report was:
The Birmingham and Solihull Sustainability and Transformation Partnership (STP) would like to acknowledge this report, and thank Healthwatch Birmingham and Healthwatch Solihull for a very insightful piece of research. We would also like to thank the participants who contributed to the research, sharing their valuable views and experiences regarding the NHS Long Term Plan (NHS LTP).
The STP's ambition to help people to help themselves to live long, happy and independent lives, requires us to understand and act on what really matters to them. This report will help us to do just that; as we develop our local NHS LTP implementation plans, to reduce health inequalities, improve local services and ultimately improve the health and wellbeing of local people, throughout every stage of their lives.
We will now take time to have a very detailed look at the findings in the report, taking them into careful consideration, to ensure that local people's needs are at the heart of any future services. We will then look forward to sharing our plans more widely at the end of this year, in line with national timelines.
Rachel O'Connor, Assistant Chief Executive for Birmingham and Solihull STP.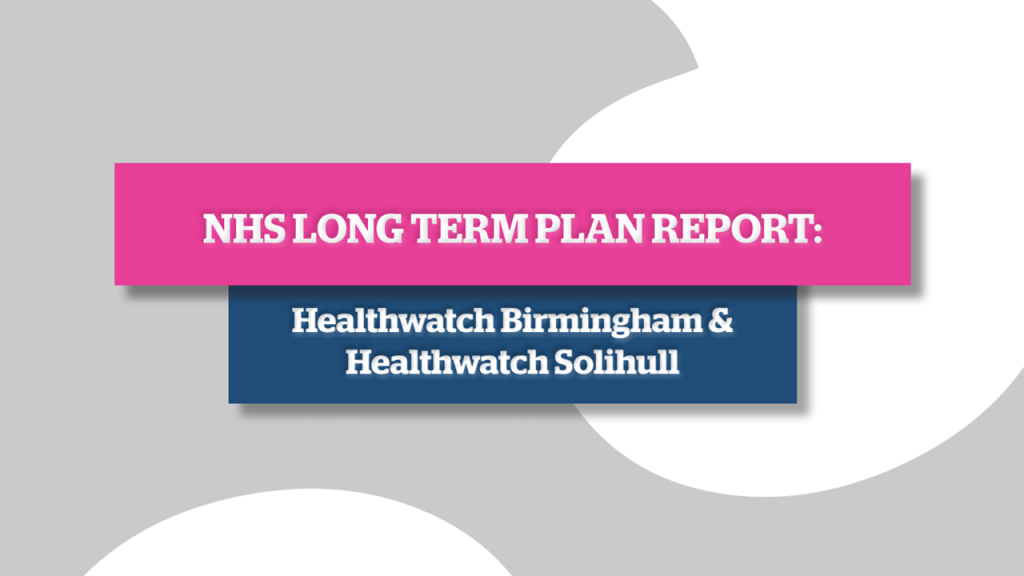 Read more about what people would do to change services in Birmingham and Solihull by reading our report.



Didn'thave chance to share your view?
Tell Healthwatch today about Birmingham services here: https://healthwatchbirmingham.co.uk/services/
Tell Healthwatch today about Solihull services here: https://healthwatchsolihull.org.uk/have-your-say/